Bedminster Union workhouse was built in 1837-8 on what is now Old Weston Road at Flax Bourton. The Poor Law Commissioners authorized £6,600 on its construction which was to accommodate 300 inmates. The architects were George Gilbert Scott and William Bonython Moffatt.
The buildings comprised of three parallel blocks: a single-storied entrance with a central archway, a main building with a central hub and cross-wings at each end, and a U-shaped infirmary to the rear flanked by a washhouse and workshops. A new infirmary block was erected at the north of the site towards the end of the nineteenth century.
A large chapel, dating from 1860, was added at the south of the site. Designed by John Norton, it was dedicated to St George and built at the expense of William Gibbs of Tyntesfield. Other buildings, now demolished, included an isolation hospital at the north or the site, workshop buildings at the west of the workhouse, and the workhouse school along the western edge of the site.
The workhouse layout is shown on the 1902 map below: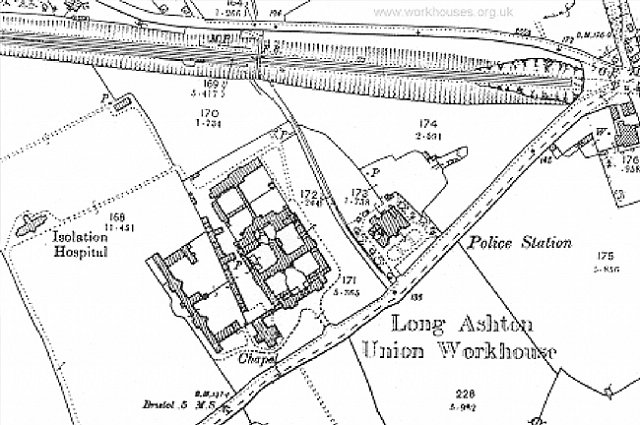 The Bedminster Union was renamed Long Ashton in 1899. Between 1929 and 1956, the workhouse became Cambridge House, a mental deficiency colony run by Somerset County Council. It subsequently became known as Farleigh Hospital, which was the centre of a scandal in 1971 when two members of the nursing staff spoke out about the appalling treatment being meted out to the vulnerable patients.
The former hospital site has now been redeveloped for use as offices although much of the original building has been preserved.
With kind permission of Peter Higginbotham www.workhouses.org.uk
Occupiers
View a list of all the companies there are within Farleigh Court and Farleigh House, from designers to solicitors there are a varied group of businesses settled into this tranquil spot...
Find out more
Amenities
What would a country location be like without a country pub. Well we have plenty to choose from, a local farm shop and Co-operative plus other great local amenities...
Find out more